Trendy Apartment Bedroom Ideas For Sylvania | SOMO Flats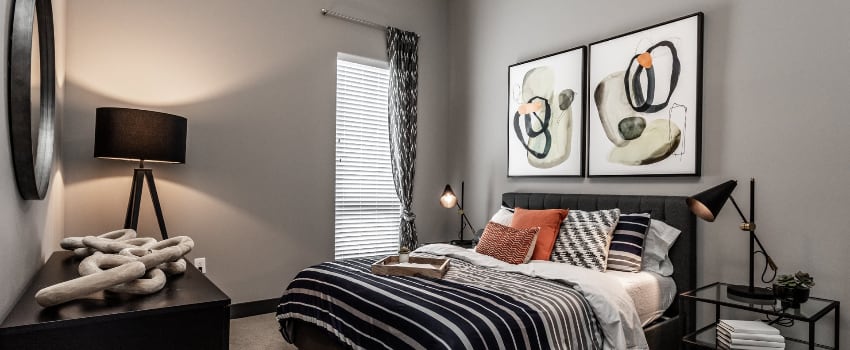 Residing in an apartment means to live as part of a community--especially if you are with roommates. With so many common areas, your bedroom might be the sole place where you have the liberty to spruce up as you please. It's also the place where you have all of your stuff. To make your personal space relaxing but functional, try these inventive Sylvania apartment bedroom ideas.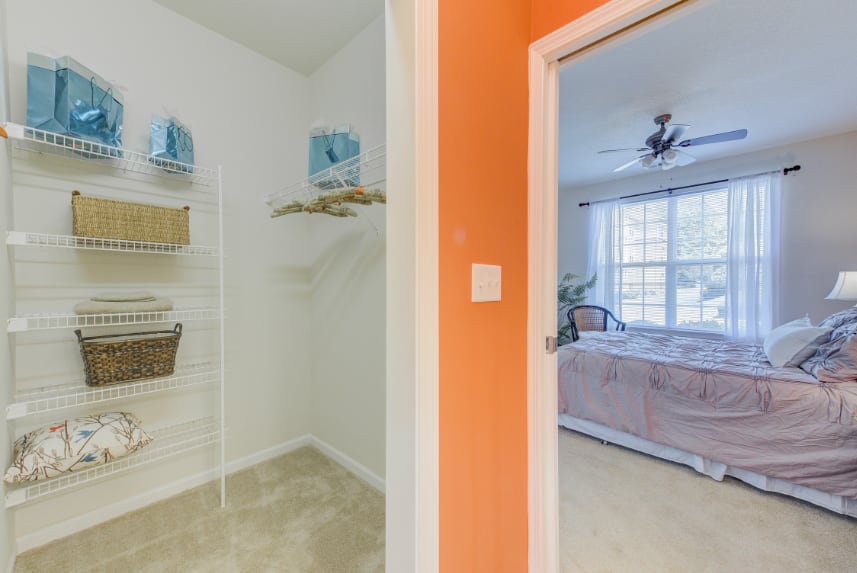 Make More Storage With Vertical Shelving
Even large Sylvania apartment bedrooms may run short on space, but that doesn't mean you can't build some with vertical storage options. Mirror the look of built-in shelving with floor-to-ceiling shelving units or put narrow storage cabinets in open spaces. Corner shelves are a space saver too!
If you're allowed to put holes in the wall, you can hang modern floating shelves to show off collectables and photos or racks to hang clothing from the walls. Door way or command hooks on the interior side of your door grant a place to hang towels as well.
Use general Function Furniture To Maximize Space
When you have precious little personal space, you need to make the best use of it with furniture that provide numerous purposes. Convert your desk into a vanity by installing a mirror above it. You now have a spot to prepare yourself just in case your roommate or family members hogs the bathroom. Or put your desk next to your bed so that you can use it as a night stand should you need one. A bookcase can fulfill the same use. If you enjoy having host guests, a storage container or ottoman at the foot of your bed affords storage and supplementary seating.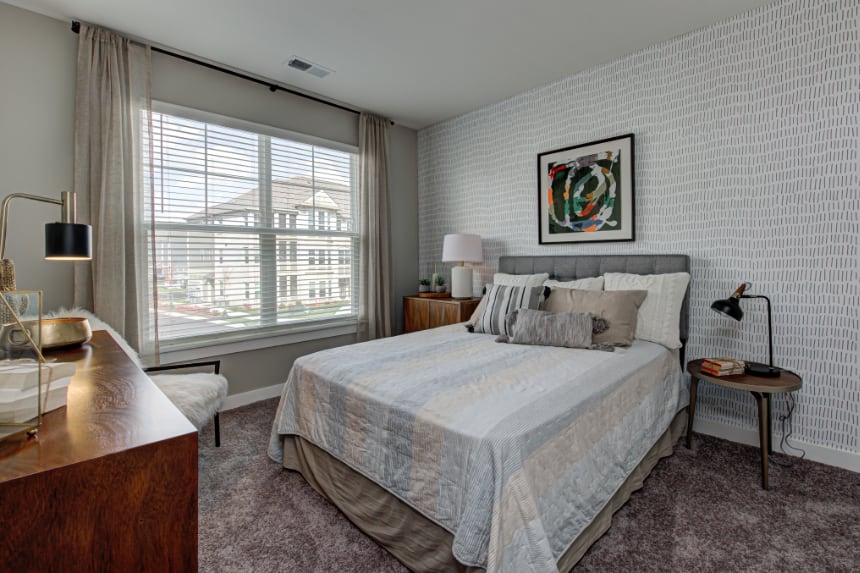 Personalize Your Space With Accessories
White apartment walls appear to be a fresh starting place when you first arrive but get stale in little time. You can make your bedroom feel inviting by furnishing it with accessories you adore, like a colorful lamp or flattering chair. Fun accent pillows and an accent rug keep the space cozy. Or highlight your hobbies with your best books, mementos, and house plants on a bookcase.
Don't be afraid to spruce up walls just because you are renting. Many apartment bedroom ideas for Sylvania residents won't mar the walls. You can employ non-mark adhesive products to stick art and precious photos to your heart's content. Removable wallpaper is a fantastic way to create an accent wall. You can even adorn your ceiling with a beautiful vinyl decal.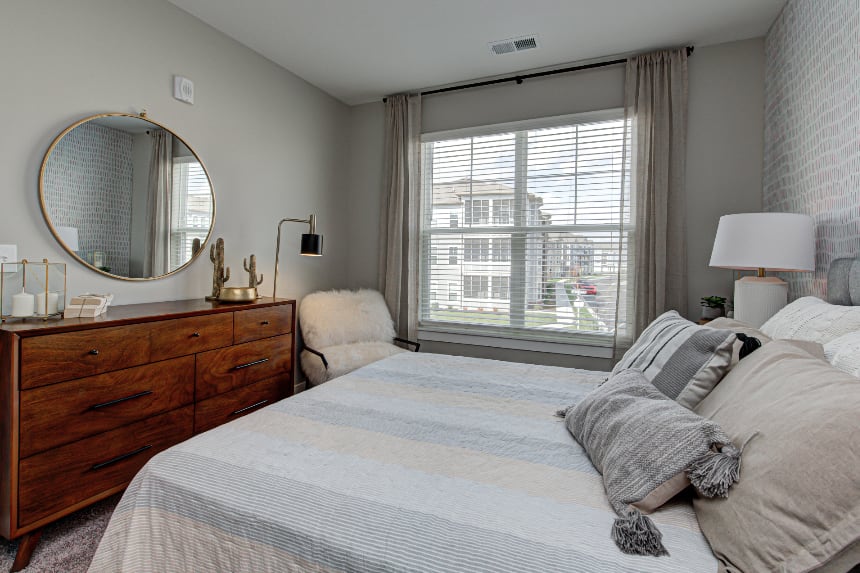 Fill Your Room With Light
It's hard to look at your bedroom decorations without adequate lighting. Whether or not your Sylvania apartment bedroom has lighting installed, use lamps to brighten things up. Start with a fun shaded floor lamp and three-way bulbs to achieve the amount of illumination you want and point it into dim corners. A nightstand with a low-watt lightbulb is helpful if you need to turn on a light from bed, and a task light on your desk prevents eye strain if you work there.
And don't forget to open the blinds every now and again! Sunlight and a peek at your Sylvania neighborhood will make your space feel comfy and inviting.
Use Your Preferred Sylvania Apartment Bedroom Ideas At SOMO Flats
You can't stylize your Sylvania apartment bedroom until you've committed to a lease! Discover your brand new bedroom among the luxurious apartments at SOMO Flats. We also provide a welcoming neighborhood and premium amenities to satisfy your daily life. Call us today 419-843-0855 or click the "schedule a tour" button to read more.