Apartment Dining Room Ideas In Sylvania

There's more to an apartment dining room than just a basic location to have a meal before running off to your busy life. It's where you spend time with friends and loved ones, engaging in peaceful conversation or a joyful night of festivities. There's a good chance you'll use it often, so it's important to design the space in a fashion you and your guests will appreciate.
If you're getting set to relocate into a new community, consider these apartment dining room ideas in Sylvania to create a beautiful, useful space.
Inject Some Style Into Your Dining Room
Your Sylvania apartment dining room doesn't need to be dull. There's no rule that says your apartment dining room in Sylvania must be uninspired. As a matter of fact, work in a bit of panache and let it be reflective of your own style. You might accomplish this by designing your own centerpiece or incorporating eye-catching artwork. If your style is a bit more subdued, you can always go with distinctive vases, placemats, and plates. Seats are another chance to show off your design expertise by selecting cushions in your preference of colors and patterns.
Here are some other suggestions on furnishing your dining room:
Ensure that it blends in with other rooms, such as your kitchen or connected living room. This is specifically important for open-concept floor plans. If your kitchen includes darker or lighter cabinetry, it's a good idea to reflect that in the tone of your dining table and other decor items.
If you have an open layout, you are able to distinguish the space with an area rug. This will bring a striking design element while muffling noise when chairs are moved.
Use Proportionate Furnishings In Your Sylvania Apartment Dining Room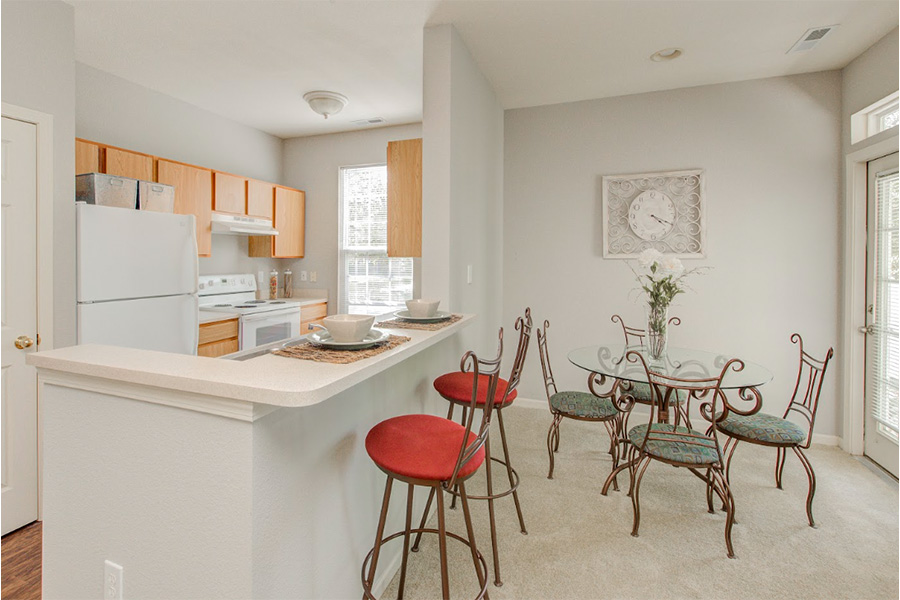 Whether your apartment dining room is large or small, it's crucial to select furniture that is sensible for your space. Armchairs and oversized cabinets will make the area seem confined. On the other hand, pieces like rounded or oval tables are space smart. They're less obstructive, and you can mix in an extra chair when necessary. If you use a rectangular table, benches you can place next to a wall is a sensible choice. You could even think about a corner bench when space is really limited.
Here are a few other suggestions for optimizing your space:
Versatile pieces like drop-leaf or extendable tables are an excellent idea. You may also use a sideboard or shelving unit for additional storage.
A large mirror will make the room seem bigger by reflecting light.
In addition, don't forget about comfort when choosing your seating. When you're two hours into that spirited board game, you'll be glad your seats have some padding.
Customize Your Apartment Dining Room At SOMO Flats
Put your new apartment dining room ideas to useGet started with your new apartment dining room ideasNow that you know some good apartment dining room ideas, take advantage of them at SOMO Flats! Our luxury apartments in Sylvania can be found in a wide range of floor plans to fit your unique style. You'll also enjoy access to a marvelous array of amenities to enhance your lifestyle. Schedule a tour to discover what we can provide, or simply contact us at 419-843-0855.